Are you seeking and looking to invest in Luxury Phuket Villas for Sale ? If so, you've come to the correct place. Read on for the best luxury villas for sale in Phuket..
The huge demand for Luxury Phuket property for Sale is skyrocketing, to the point that foreign investors and non-Thai nationals have come in droves looking for opportunities. This demand arose as a result of Thailand's status as one of the world's developing economies.
If you plant seeds of investment in the fertile soil of Thailand, it will likely pay huge dividends in the future as a landlord or leaser. This is especially true of Phuket Island, home of many beaches and emerging new resorts.
Why Should You Invest in a Phuket Villa?
Long-term economic prospects in Southeast Asia, especially Thailand, appear to be very promising. Even by cautious predictions, the rise of the Asian middle class is likely to exceed 250 million, even while the middle class in Western nations such as the United States and the United Kingdom continues to decrease.
Even with such optimistic demand estimates, Phuket's prices remain lower than those of other regional real estate markets. Don't sit around waiting for demand to increase. Right now, you can snap up a huge Phuket villa for the same price as a Singaporean or Chinese one-bedroom condo.
Invest in one of many Phuket villas described below.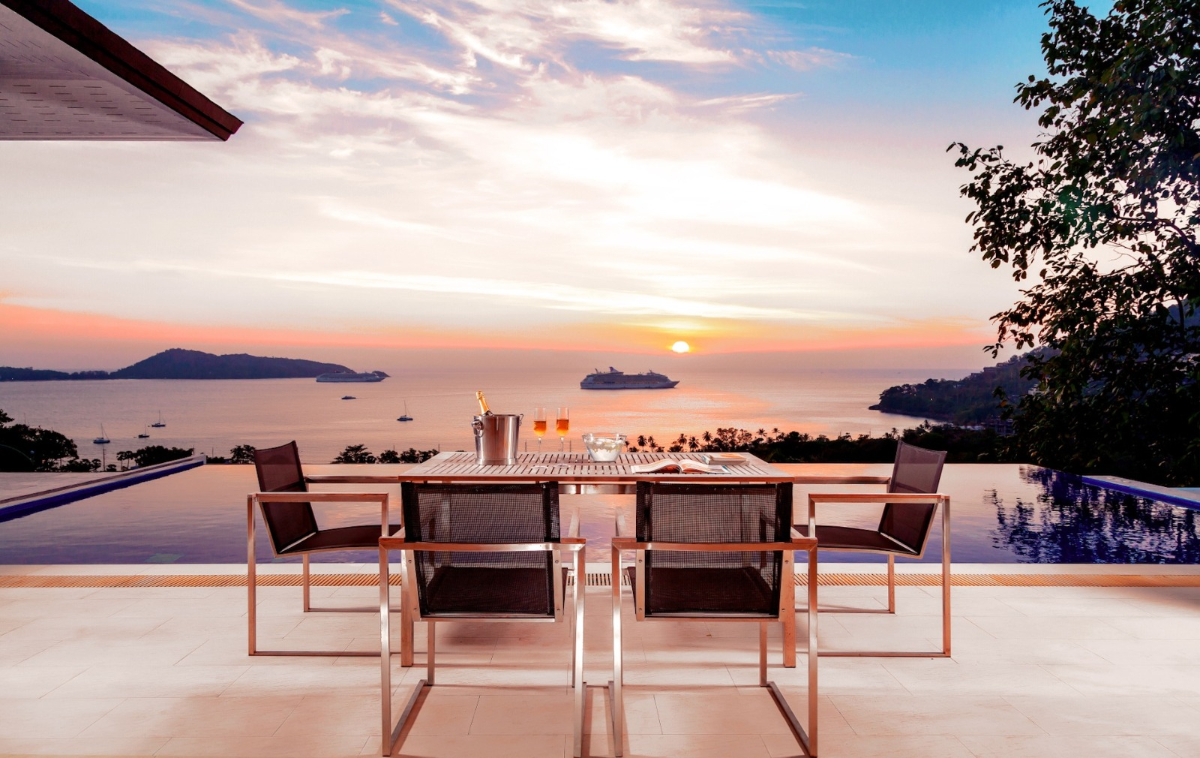 1. Sensational 6-Bed Ultra-Luxury Sea View Villa in Phuket
Go get this Rocks Star 6-Bed Sea View Villa today. Why? It exudes opulence. The stunning views of pristine Kalim Bay are worthy of any rock star's abode.
The 6-bedroom ultra-luxury seaside home also has air conditioning and ceiling fans, a secure intercom system, CCTV security cameras, and a plethora of manicured gardens.
It even has its own outdoor bar area and bathroom, making it feel like you've hired out a whole resort instead of a home. It features 1,600 sqm of open space and 1,200 sqm of built area.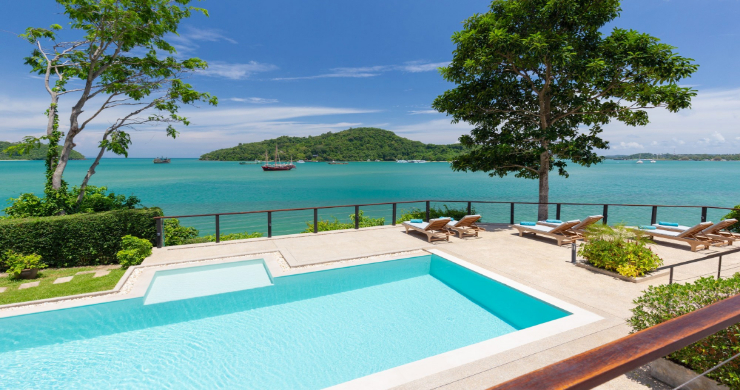 2. Oceanfront 5 Bedroom Luxury Villa for Sale in Phuket
You can't go wrong with this Chanote Title 5-Bedroom Phuket Luxury Villa. Its key feature? Absolute privacy, as though you've stumbled into a secret paradise or the Garden of Eden itself. It's an unbeatable location with 5 bedrooms and 5 baths.
The seaside vistas are a constant inspiration with each sunset and sunrise. Its fully equipped kitchen allows quick and easy home-cooked meals. It also features careful attention to detail throughout the interiors.
Its vast tropical grounds, four distinct Thai-style pavilions, private vehicle parking, outdoor Sala, private swimming pool, and private spa room make it the height of ultra-luxury.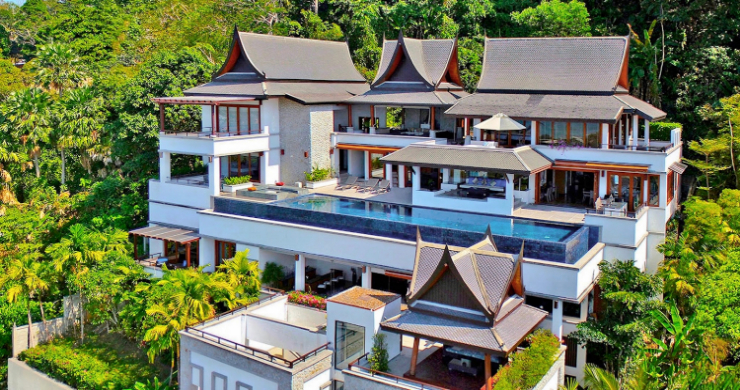 3. Phenomenal Luxury 5 Bedroom Sea View Villa in Surin
This magnificent Surin 5-Bedroom Sea View Villa  is a veritable treasure trove of features, amenities, and stunning design spanning 1,550 sqm of villa area.
The numerous highlights include the fabulous panoramic view, a covered Sala seating for four people, a private sea-view Jacuzzi for six people, and an al fresco dining table. You can also relax in the infinity swimming pool, which appears to extend over the horizon.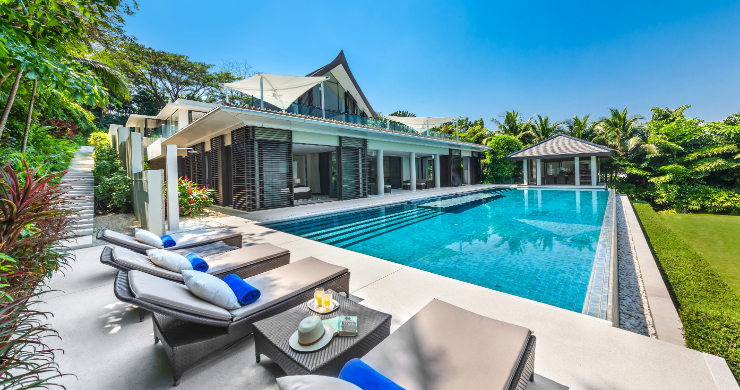 4. Stunning 5 Bedroom Luxury Villa in Cape Yamu Phuket
The 5-Bedroom Stunner at Cape Yamu, Phuket astounds all who sees it thanks to the idyllic Cape Yamu location together with stunning vistas of the Andaman Sea.
It features contemporary design with 5 bedrooms, 5 bathrooms, and a building size of 1,755 square meters. It's essentially a private beachfront home in a gated community.
It boasts a spa and gym, an additional office building, expansive landscaped gardens, as well as a fully fitted western kitchen, an estate tennis court, and a large garden play area.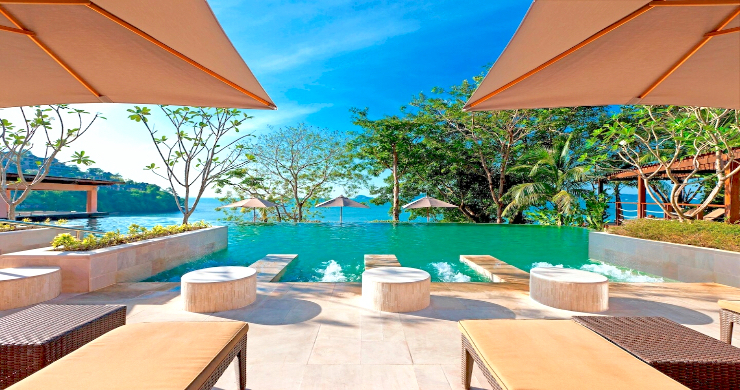 5. Ultra Luxury 5 Star Beach Resort for Sale in Phuket
This Five-star Luxury Beach Resort for Sale is a unique property sale since it is a self-contained resort with over 257 guestrooms and suites.
It comes complete with on-site parking, a pool deck and patio, event space and a ballroom, six bars and restaurants, a fitness room, spa, ocean views, and three outdoor pools. It spans 60,800 sqm and affords an ultra-luxury lifestyle as a resort owner.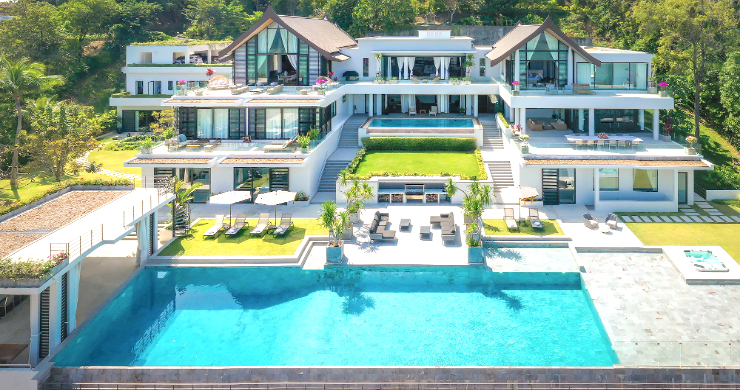 6. Opulent 10 Bed Luxury Villa in Cape Yamu, Phuket
Located within Cape Yamu, this 10-Bed Luxury Villa in Cape Yamu is a palatial residence. It has a building area of 2,650 sqm on a land area of 7,555 sqm. It features a fully equipped gym, a spa, a private cinema, an office building, large manicured gardens, and private beach access.
This 10-bedroom, 10-bathroom mansion also has a billiards table, and a stunning infinity edge pool.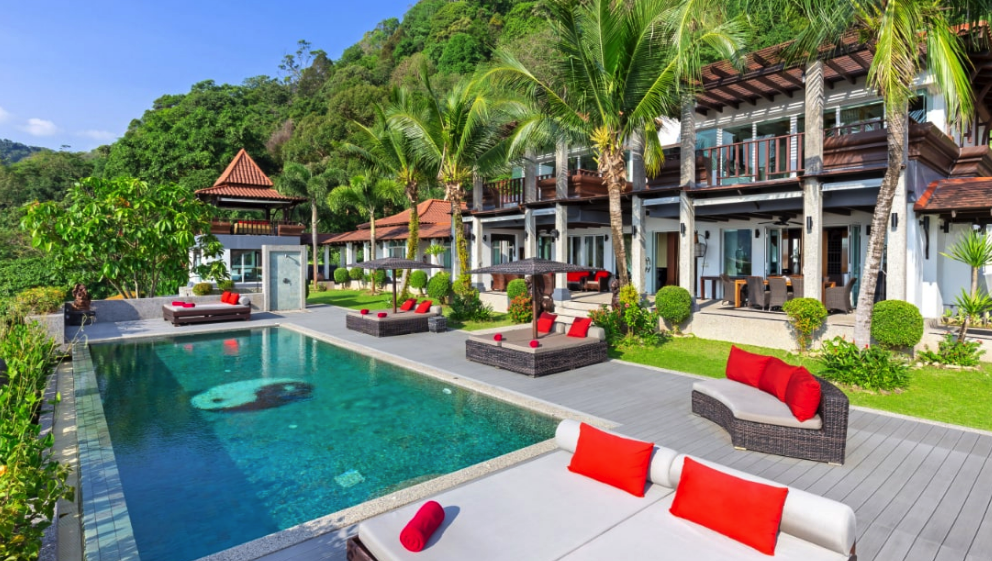 7. Tropical 8 Bedroom Luxury Villa for Sale in Phuket
This luxury Tropical 8 Bedroom Luxury Villa for Sale in Phuket offers 750 sqm of building real estate. It's unique in that it offers stunning mountain & sea views of the Patong Bay.
It enjoys a spacious pool terrace and Jacuzzi on top of a fully furnished and artistically decorated interior. It also comes with a deep water well, two parking garages, landscaped gardens, a private swimming pool, and fully fitted modern kitchen.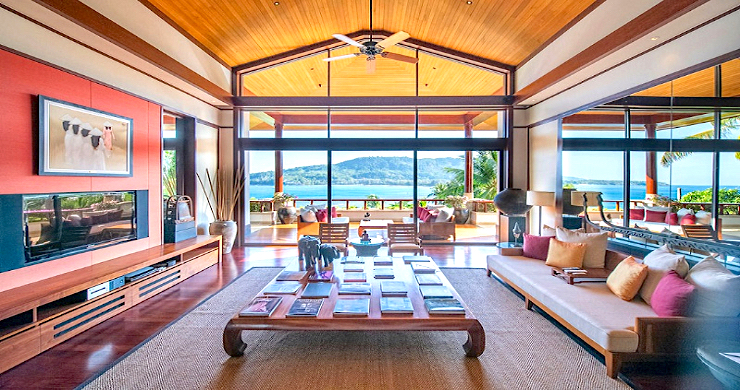 8. Exquisite Thai-inspired 4 Bed Luxury Villa in Phuket
This 4-5 Bedroom and 4 Bathroom Luxury Villa  stands out for its authentic Thai-inspired décor. To appeal to a western market, many villas opt for more westernized styles. This mansion, on the other hand, demonstrates the beauty of showcasing its Thai roots.
Located in the centre of Phuket's "Millionaire Mile," investing in this villa will allow you to enjoy eye-catching design that incorporates 5-star luxury yet remains faithful to its origins. It has an outdoor Sala, planted gardens, separate staff quarters, a fully equipped kitchen, private swimming pool, and private massage room among its highlights.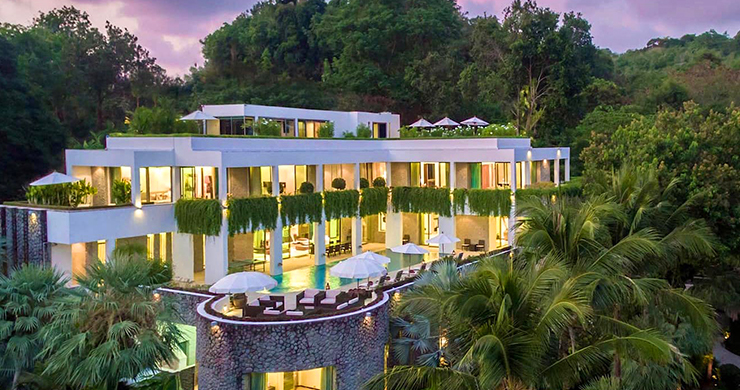 9. Gorgeous 6 Bedroom Sea View Villa for Sale in Phuket
The Freehold Tenure Chanote Title of this 6-Bedroom Sea View Kamala Villa, it's a worthwhile Phuket investment because of its eye-catching design. It gives you optimum space and a variety of ways to entertain yourself and guests.
It includes an infinity pool, a spacious pool deck, breath-taking panoramic views from balconies and the terraces, as well as an integrated Jacuzzi and outdoor shower. It also has a range of Asian-styled interior features and furniture.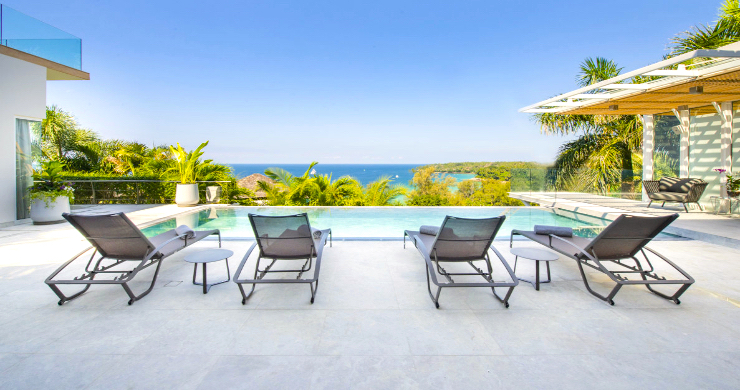 10. Contemporary 4 Bed Luxury Sea View Villa in Phuket
If you seek a modern residence, then check out this Contemporary 4-Bedroom Luxury Sea View Villa. This Chanote Title with Freehold Tenure has four bedrooms and is located near to Surin Beach, ideal for everyday leisure and relaxation.
It serves as your own personal resort hideaway in Phuket, complete with 24-hour security, resort community facilities, on-site vehicle parking, maids' quarters, fully equipped western kitchen, and private pool. From the overall decor to the furnishings, it exudes represents modern open-plan living at its best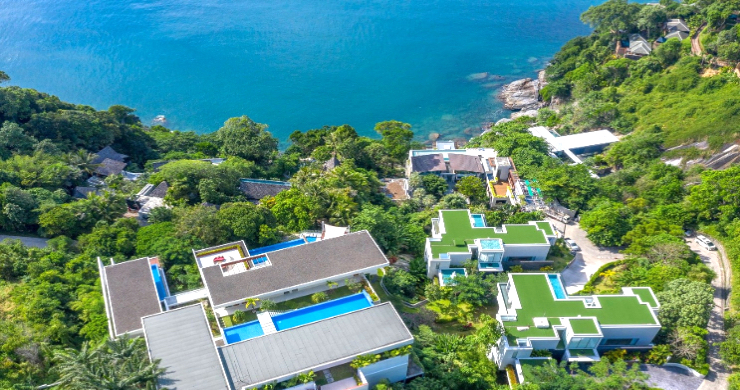 11. Oceanfront 4 Bed Luxury Villa Residence in Phuket
The Oceanfront 4-Bedroom Kamala Luxury Villa Residence will tick all the boxes for many investors. It has 6 bathrooms and 4 bedrooms in a luxurious property complete with the most spectacular ocean views in the area.
If that isn't enough, what about three private swimming pools that appears to stretch to the sea? Or the fully equipped western kitchen, spa and massage room?
The entire 2,700 sqm site is fully gated and secure.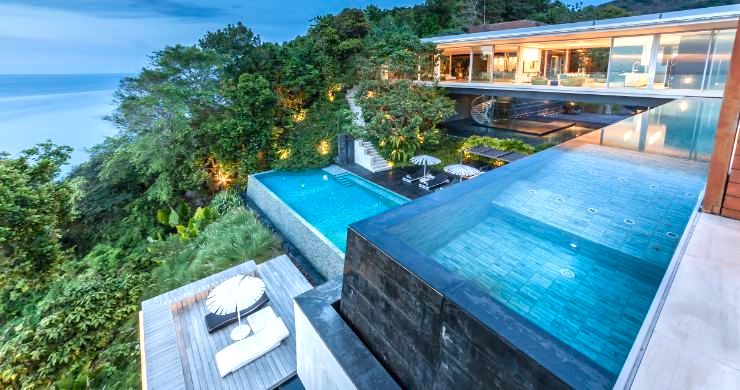 12. Contemporary 4 Bed Ultra-Luxury Villa on Kamala Bay
The 4-Bedroom Ultra-Luxury Villa on Kamala Bay is a must-have property has abundant highlights. A focal point is the 21-metre infinity edge pool, as well as the scenic Phuket setting.
This Kamala Bay beachfront villa also has 4 bedrooms (2 master and 2 guest bedrooms), a built-in two-person Jacuzzi, expansive terraces, a fully furnished American kitchen, and other amenities. The open-plan living area has generous dimension, perfect for a socially active lifestyle and entertaining.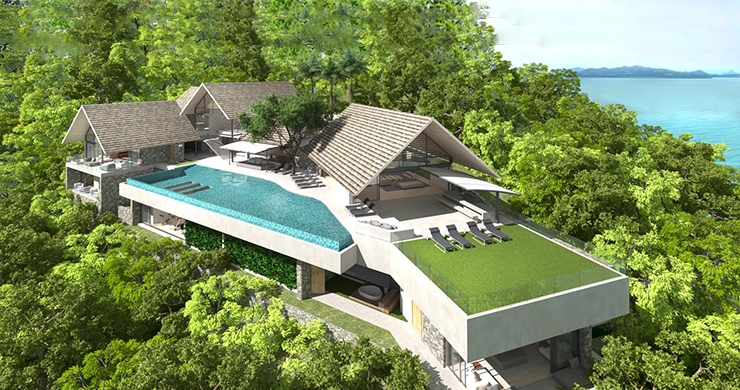 13. Ultra-Luxury Headland Villas at Cape Yamu, Phuket
The Cape Yamu Ultra-Luxury Headland Villas vary from other options on this list in that they comprise a group of villas for sale in a single property ranging in size from 4,205 to 5,846 square mstres.
These 4-6 bedroom ultra-luxury pool villas are available with either freehold or leasehold ownership. These homes have pitched cedar wood roofs or pavilions, a shared swimming pool, bespoke designs and plans, and a beachfront setting.
They also have cathedral-style ceilings and tropical landscaped gardens.
14. Tropical 3 Bedroom Balinese Pool Villa in Layan
The Layan 3-Bedroom Balinese Pool Villa features 3 bedrooms with 3 baths, in a stylish open-plan layout with high-ceilinged living rooms. It comes with a swimming pool, fully furnished interiors, a fully equipped western kitchen, and a covered carport. It houses its own gym and enjoys 24-hour security.
You'll also have the, benefit of a highly desirable residential neighbourhood that will continue adding value to your investment.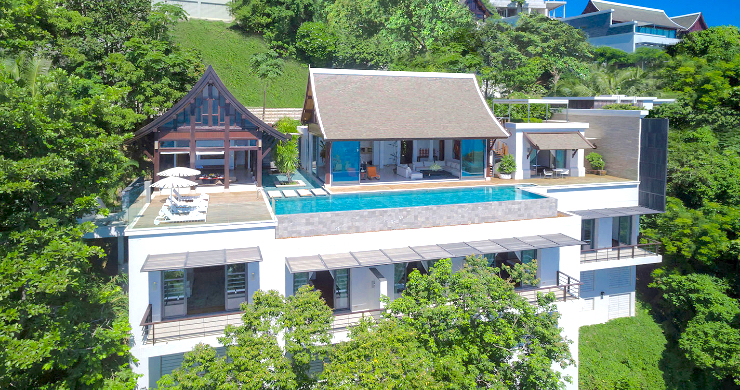 15. Luxury 5 Bed Sea View Beachside Villa in Phuket
This 5-Bedroom Sea View Beachside Villa belongs on this list of the best Phuket villas because it ticks all the boxes for a high-end Phuket villa investment. It provides stunning ocean views, an impressive private pool, high-quality furnished interiors and exclusive Beach Club access. There is 24-hour security to keep you or your tenants safe and sound.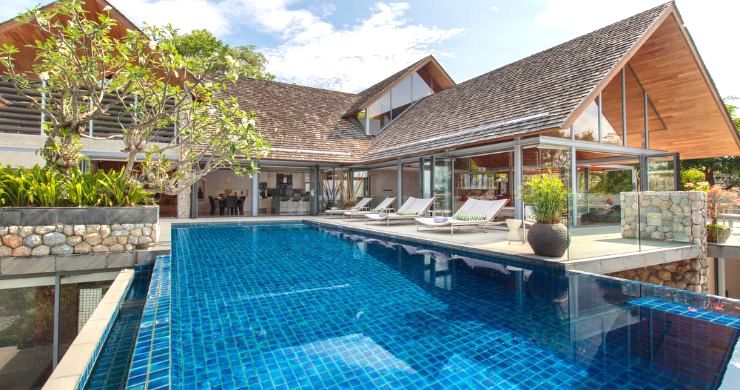 16. Luxury 6 Bed Oceanfront Pool Villa for Sale in Phuket
This Luxury 6-Bedroom Oceanfront Pool Villa, has quite the number of bedrooms (6) for multiple tenants, or a group. Aside from ample bedroom accommodations, it also has with a 14-metre infinity pool.
If that's not enough there's also its 43-inch plasma TV, Bose surround system, 20-inch wall-mounted flat screen TV, and TV in the dining area for all your TV-viewing or Netflix-streaming entertainment needs. Additional amenities include a yoga studio, outdoor Jacuzzi, an indoor meditation space, whirlpool and tubs, and expansive manicured lawns.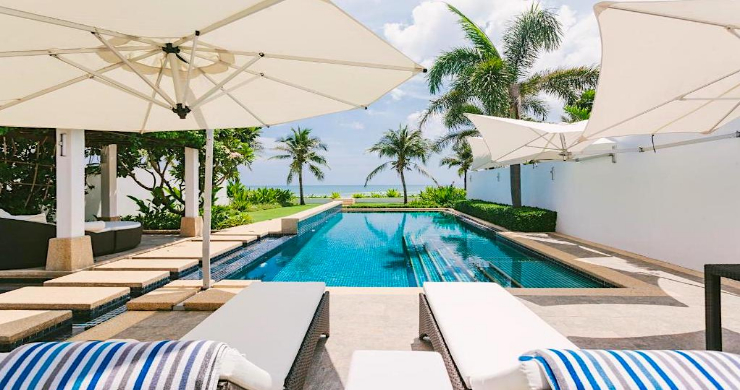 17. Modern 2 Bed Beachside Pool Villas on Natai Beach
You can't go wrong with this 2-Bedroom Beachside Pool Villas on Natai Beach.  It's another group of villas brimming with features that savvy investors crave in their investment.
This Freehold Tenure Chanote Title has a private swimming pool, and a modern split-mezzanine floor plan designed by globally known architect Paul Raff. Its proximity to Natai Beach (50 metres away), offers close-up views of the ocean.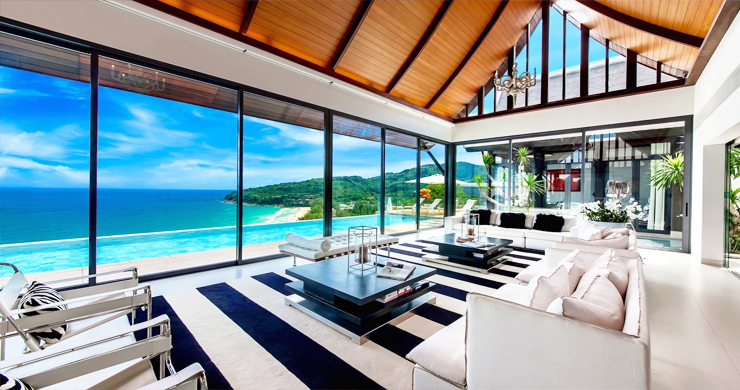 18. Magnificent Luxury 5 Bedroom Villa for Sale in Phuket
This Nathon Beach Luxury 5-Bedroom Villa has a lot going for it. Firstly, the great Nathon Beach location is hard to beat. It has a big lounge, a safety deposit box in every room, a well-equipped fitness and spa room, and its own media or gaming room. This Chanote Title is located in a secure and peaceful gated neighbourhood.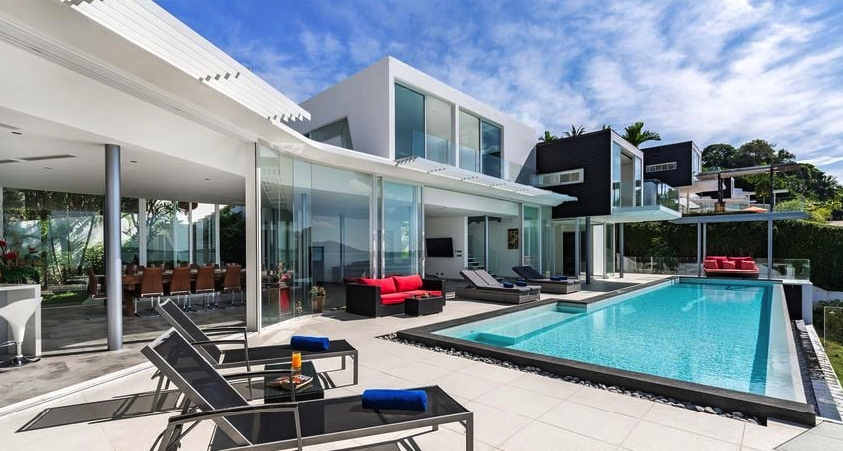 19. Cape Yamu 7 Bedroom Luxury Sea-view Pool Villa
Consider this 7-Bedroom Luxury Sea-View Pool Villa in Cape Yamu for a prestigious hoe perfect for entertaining.
For those who enjoy barbecuing, this villa features an outside Sala with a grill area. The all-inclusive facilities include a private movie room with Sonos sound system, and indoor and outdoor dining areas. The leasehold property also has covered parking for two cars and pond-featured walkways.
20. Ultra-Modern 5 Bedroom Luxury Pool Villa in Phuket
Ever wondered what an ultra-stylish villa is like? Check out this Ultra-Modern 5- Bedroom Luxury Pool Villa. It is packed with value-added residential amenities including a spacious private sun patio, a gaming or entertainment room, a ping-pong table room, and high-speed wireless Internet to keep you, your renters, or your visitors entertained.
It also includes 24-hour security, covered parking, and separate showers What more could you wish for?
When All Is Said and Done
In today's unpredictable market, Phuket has some of the top homes for sale. If you act now, you may be able to obtain a high-quality villa that becomes an excellent investment as we exit this pandemic rollercoaster ride. Buying a home in hotspots like Phuket is simply the best way to achieve success. So, what are you holding out for?